Tickets
We offer a variety of tickets for your journey on our buses so whether you want to make a single trip or require one days unlimited travel, we have something for you. Unfortunately we currently don't accept cashless payments on our bus services so please make sure your have money to pay for your journey. Our drivers do carry a limited float and are able to give change where available.
Single Ticket:
For a single journey between two destinations.
Return Ticket:
For a return journey between two destinations.
Weekly Ticket:
For a 5 or 6 days worth of daily return journeys between two destinations.
Monthly Ticket:
For 1 months worth of daily return journeys between two destinations.
Discovery Ticket:
For 1 days UNLIMITED travel in the Southeast on most major bus operators.
We also accept most local authority concession bus passes as well as the KCC Travel Saver passes. These can all be scanned on our ticket machine as you enter the bus.
We do not accept Stagecoach or Arriva tickets on our services – EXCEPT for services 61/61A/90 and Stagecoach or Arriva issued Discovery Tickets.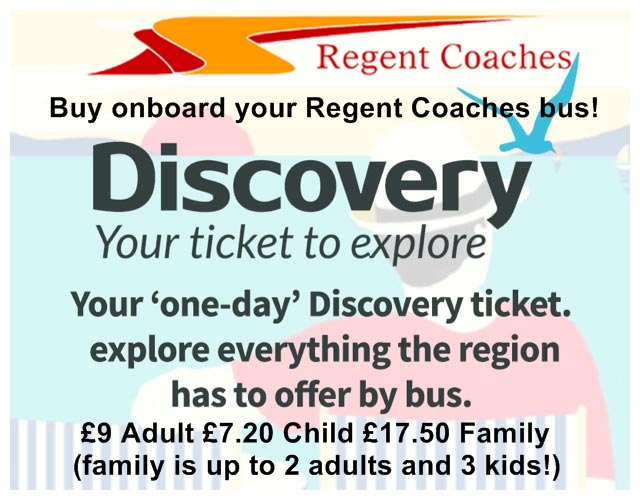 Discovery Tickets.
As mentioned above, we issue and accept Discovery Tickets on our services. These are a great way to travel around the Southeast and are valid on many bus operators including: ASD, Arriva, Brighton & Hove, Chalkwell, Metrobus, Nu-Venture, Regent Coaches, Stagecoach and The Big Lemon. Discovery Tickets are valid for one day travel only and are handy if you are making a longer distance bus journey for which you would normally pay for. Please buy your Discovery Ticket from your Regent Coaches driver as you board the bus.
ADULT £9.00
CHILD £7.20
FAMILY £17.50 (A family ticket is up to 2 adults and 3 children!)

PlusBus Tickets.
We accept PlusBus Tickets on our buses in the following areas: Canterbury, Deal, Dover, Herne Bay, Margate, Sandwich and Whitstable . Please show your ticket to the driver as you board the bus.
For more information please visit the PlusBus website:
www.plusbus.info
Catching Our Buses.
Our services use all the regular bus stops no matter what the branding on the actual bus stop flag. There are certain incidences where there are multiple stops in a town centre that we will only serve a certain one, this will be advertised on our timetable. In certain rural areas there are no physical bus stop flags so please stand in a safe location away from any junctions and signal clearly to our driver when you see your bus approaching. Please have your pass or fare ready when you board the bus.